The Mediterranean style is characterized by abundance of sunlight, tranquillity, and associated with a sea, lush greenery, and rest. It was inspired by the Italian and Greek cultures, and this is why the choice of materials and colors is so peculiar.
Colors of the Mediterranean style
The Mediterranean-style bathroom is bright, simple, sunny, cozy, and has a relaxed and warm atmosphere. All of these characteristics accurately convey a color palette. It can be divided into two categories:
The Mediterranean-style Greek colour scheme includes cold shades such as blue, dark blue, emerald, white, asparagus green, red, pink, lemon. They make the interior cool and fresh, like after rain on a hot day. Black may be used as an accent color.

The Italian colour scheme of the Mediterranean style contains warm saturated tones like orange, olive, terracotta, yellow, golden and ochre.

Many bathrooms are designed with brown shades. Ideally if they would imitate precious woods, warn marble and aged parquet.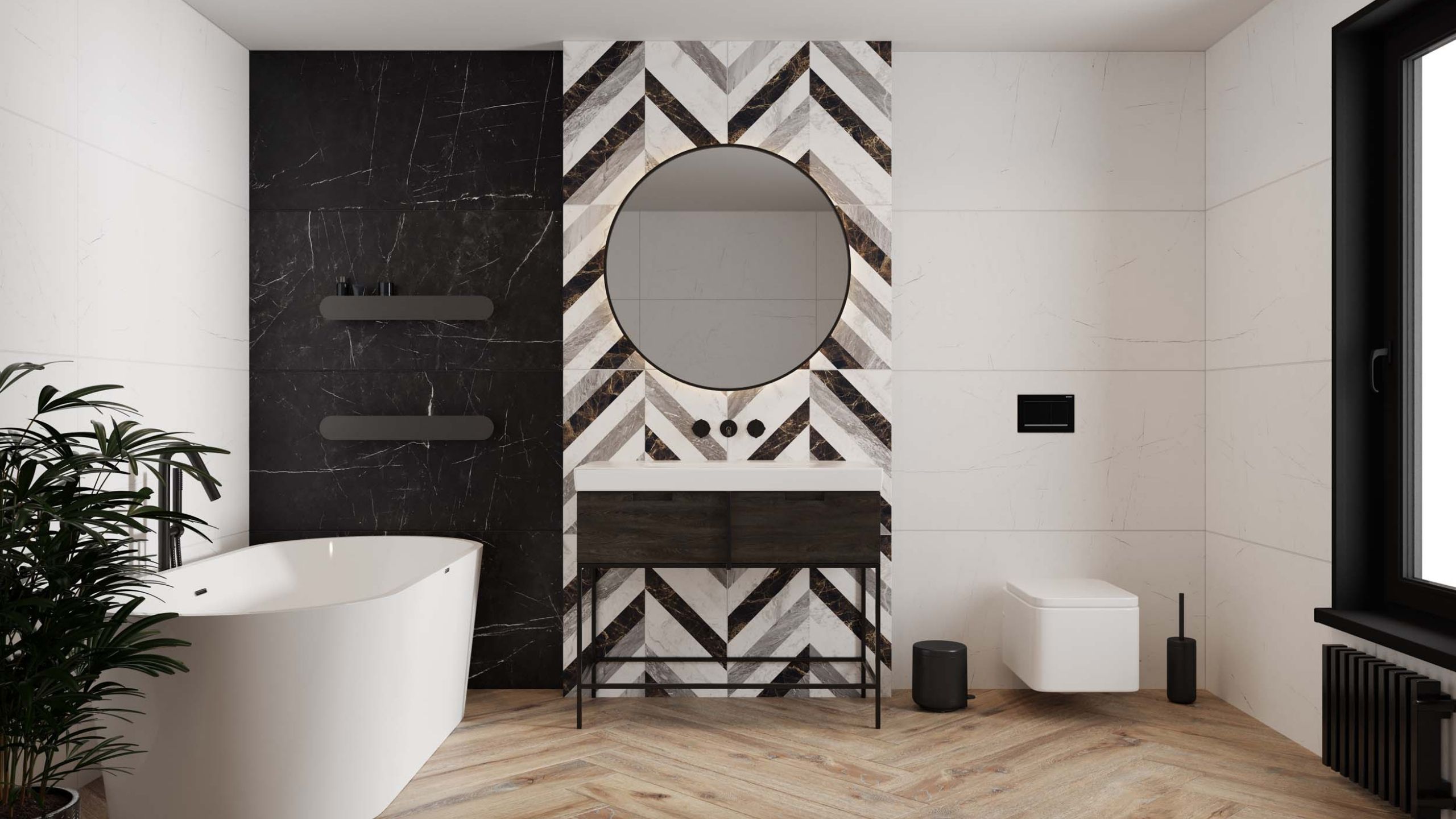 Mediterranean-style surfacing materials
It is better to use the natural materials or their imitation. The ceiling, walls and floor can be covered with natural stone, brickwork, ceramic tiles and mosaics, molding, paint, decorative or Venetian plaster, aged wood.
The porcelain stoneware by Estima looks pleasing in the interior. The material imitates marble, parquet, aged wood, bright ceramic tiles. You will find a selection of bathroom designs using Estima collections below.
Design features
The Mediterranean style primarily contains the same geometric forms. The door, window, mirror, bath, suite can be rectangular, oval, round, square. There are non-standard forms such as arches, trapezoids, semicircles and polygons.
The main thing is that the shape of the window or ceiling must create a feeling of smooth transition to furniture and plumbing. There are unique design solutions in the photo. The bath is zoned by a partition of irregular shape or placed under a stone dome. In spacious rooms it can be installed in the centre or near a large window.
How to decorate walls in the Mediterranean style
The walls of the bathroom are normally decorated using warm or cold colour schemes. It is possible to create a mosaic or highlight areas with plumbing and accessories. Here are some examples of wall decoration in the bathroom with Estima porcelain stoneware:
Kailas. The material imitates natural stone. It is appropriate for the cladding in spacious bathrooms. It doesn't overburden the interior, it makes you feel like you're in an old Greek room. It's stylish and unusual.

Cosmos. The porcelain stoneware from this collection imitates granite crumbs of warm shade. With it comes bright and interesting design. In addition, the material is suitable for attracting attention to the bathroom, mirror, window and suite.

Empire. This collection includes porcelain stoneware, which imitates natural aged marble. There are many variations of shades and patterns that will perfectly match the Mediterranean style.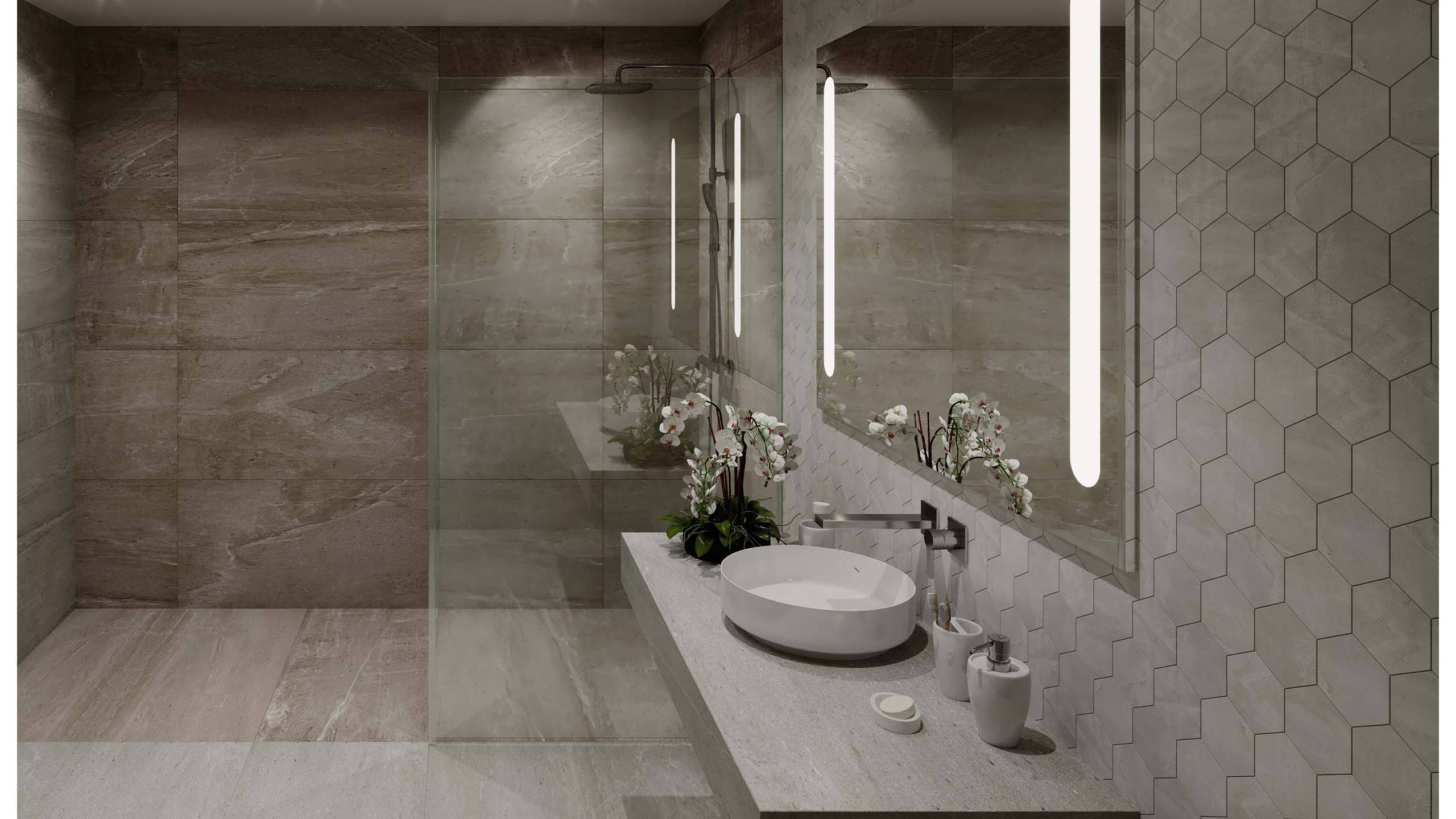 Follow several rules when designing the walls. For small rooms it is recommended to select only light shades of material without voluminous patterns. For spacious rooms it's better to use dark and combined shades. Mosaic will also look great in the interior.
The ceiling
The Mediterranean style bathroom gives unlimited variants of ceiling designs. The selected material is mostly according to personal preferences. It could be decorative plaster, multi-level suspended ceiling, or ordinary lime. Top preferences of the light shades are white, sand, peach, blue and gentle pink. The main thing is that the color of the ceiling must match the other bathroom finishing materials and colors. It's good to use complex shapes like the form of a dome, a polygon or a beam.
The floor
The bathroom is a wet area. Therefore, in order to increase the level of safety it's better to choose non-slip and fast drying material such as a porcelain stoneware. Here are several examples with Estima porcelain tile:
In the general bathroom design, the dark floor is pretty good-looking. It can be decorated with porcelain stoneware from the Brigantina collection. The Mediterranean style corresponds to nature, so it is appropriate to use the imitation of aged wood. The material is also good for shower area or the zone under the bath.

The Selection porcelain stoneware is well adapted to the Mediterranean style. It imitates a noble wood with natural shade and relief. It wouldn't be an accent design detail and it is combined with other light colors as well.

Supreme. With this porcelain stoneware, the interior acquires freshness, space and air. Platinum «veins» on the floor surface create a marble imitation. The light-grey shade matches a warm and cold colour scheme.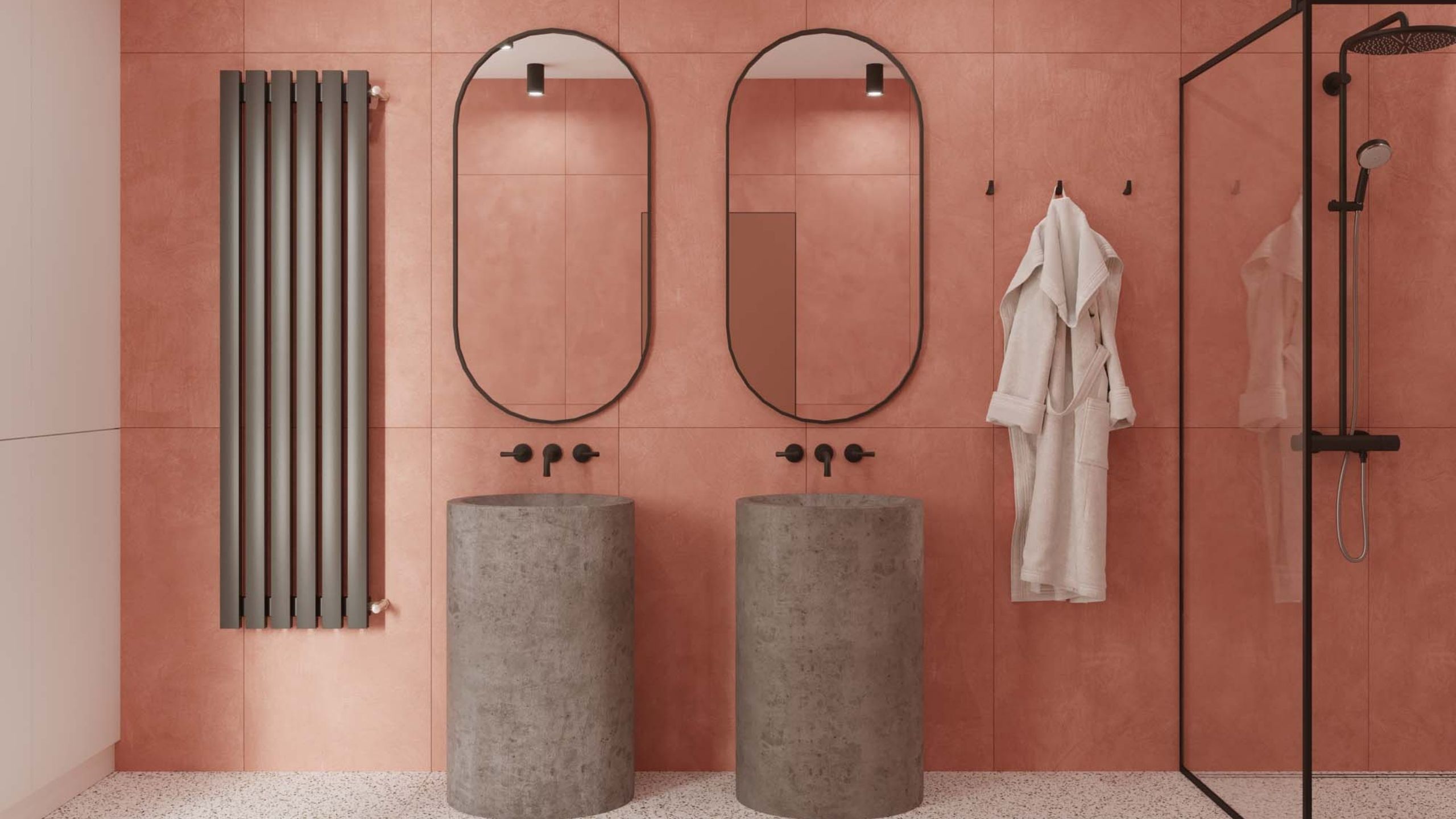 The floor in this style can be made of porcelain tiles, laminate or concrete.
Plumbing
The bathroom interior looks good with both classical and built-in plumbing. Many people give their preferences to semicircular or round baths, a marble or stone sink and vintage mixers.
The bath can be replaced by a shower with or without transparent doors. Use built-in and suspended plumbing if you have a small bathroom. In that case you'll save a lot of space. And the bathroom will seem to be visually bigger.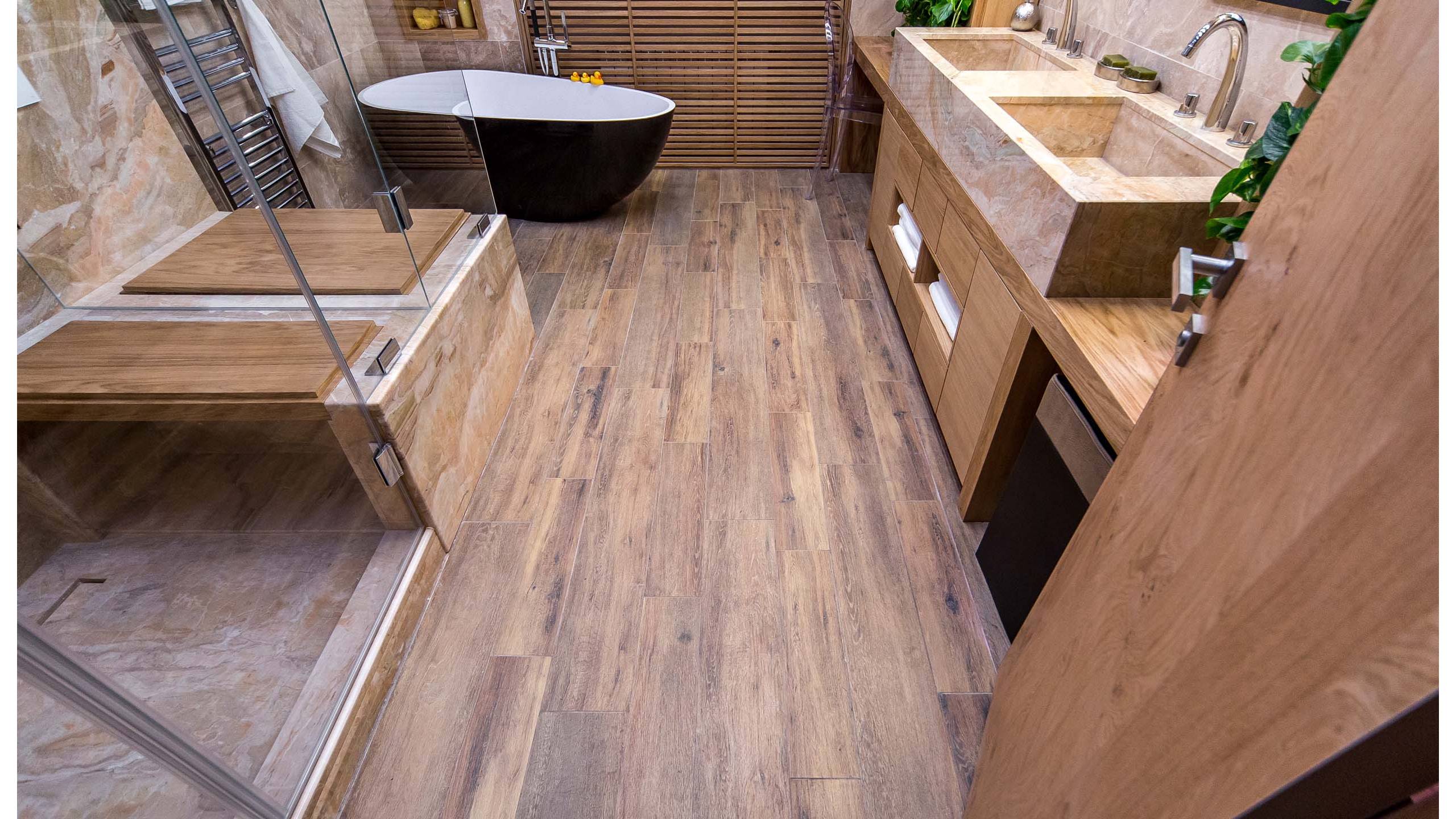 Lighting
The icing of the cake is to style the room with wall lamps, bras, LED lamps, home spotlights and suspended chandeliers. It's a good idea to add some additional illumination of specific areas, such as showers and mirrors in spacious bathrooms.
Furniture
Closets with a large number of drawers and stone table-tops look nice in the interior of the Mediterranean style bathroom. Accessories are primarily selected of the same shape as windows, doors, plumbers and mirrors. They can be massive and secure, simple without superfluous details, wooden or with coiled elements. This style is also marked by handmade suites.
Accessories and textiles
The Mediterranean style is natural. Thus, items made of the rotange, lush greens, one-ton curtains, bath towels on hooks, and sets of antique stands are ideal for the bathrooms.